Dynamic 4K HEVC Encoder/Decoder Solution
Dynamic 4K HEVC
Encoder/Decoder Solution
Deliver Reliable 4K HDR Streaming Video
Prism elevates your production workflow with industry leading, low-latency 4K HDR video. Designed to perform in mission-critical scenarios, Prism's dependability and adaptability shines in IP video deployments of any size and complexity.

Whether you're operating in a television studio, streaming from a live production, or transmitting video to a satellite campus, you need a solution that delivers the highest quality video for any situation. Prism does just that, providing you with stunning 10-bit, 4:2:2, 4K HDR encoding and decoding in a high density format.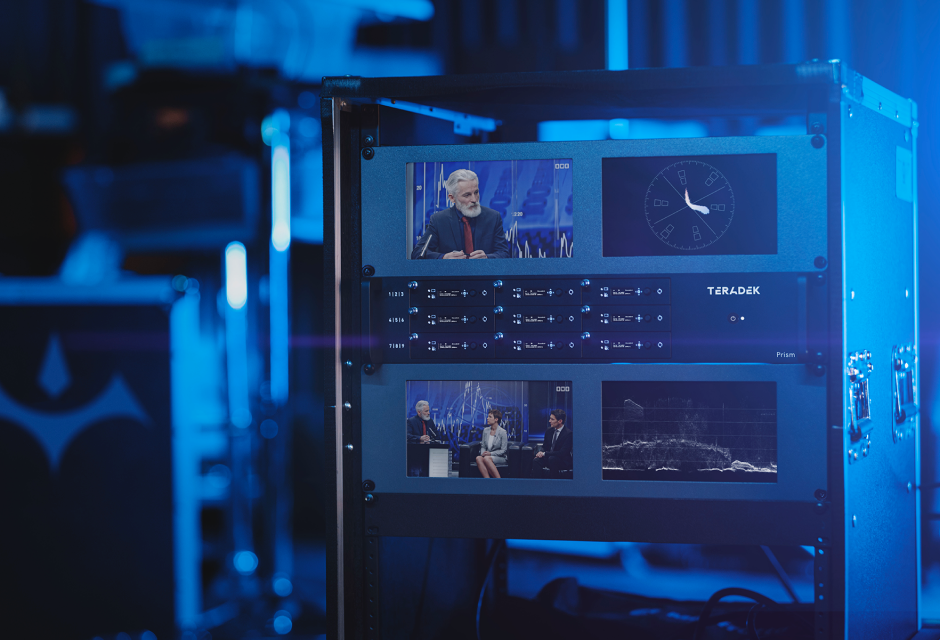 Your video needs may change over time or from day-to-day, from covering live events to receiving point-to-point video at the station. With room for up to nine blades in a 2RU chassis or three blades in a 1RU chassis, you can customize Prism with any combination of encoder and decoder cards necessary to accommodate your environment and workflow.

Stream with Supreme Confidence
When reliability and security matters most, you can't settle for second best. Teradek is a proud member of the Secure Reliable Transport (SRT) Alliance, and as such, Prism ensures you can deliver high-quality, low-latency streaming video—even during periods of severe network congestion—using the SRT protocol. Prism also supports several additional protocols, including RTMP(S) and MPEG-TS.
Configure In‑House
or Remotely
Prism includes room for redundant power supplies (2RU only, additional power supply sold separately) and dual gigabit ethernet ports for increased network flexibility in dynamic production environments. Configure your device locally from your mobile phone, desktop, or remotely from your web browser through Core, Teradek's cloud-based management platform.

Core is a complete IP video management platform in the cloud that gives you total control over your IP video devices from anywhere in the world. The Core platform is an optional service for Teradek Prism codecs.
Stream to any online video platform, decoders, and Teradek iOS / Android applications, all at the same time. Core gives you the power to deliver your content everywhere, even if your destinations require different bitrates, resolutions, and protocols.
Being on the cutting edge means everybody else has to catch up, but not with Core's Transcoding engine. Stream from your HEVC Teradek encoder to Core for a real-time conversion to AVC, allowing you to take advantage of H.265's benefits while delivering your content in the common H.264 standard.
Remotely configure every parameter of your Teradek codecs or route them to any compatible HEVC / H.264 decoder, all from your web browser.
Record and monitor every video feed passing through Core in real-time. Each file is automatically saved on Amazon's S3 servers, which means they're accessible from anywhere with an Internet connection.
What's the difference between Prism and T-Rax? Are they compatible?

Prism is compatible with all of Teradek legacy Cube, Slice, Bond, and T-Rax systems.
Does Prism support HDR?

Prism can stream and decode 10-bit, 4:2:2 HDR video.
What Teradek apps is Prism compatible with?

For the highest quality experience, we recommend using our Core TV and Vuer applications for iOS, Mac OS, Apple TV, and Android.
Where can I get support for this product?